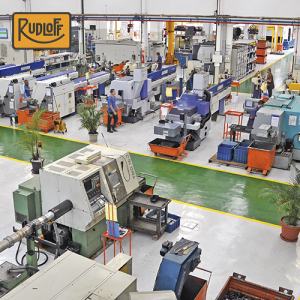 Rudloff Industrial Ltda was founded on March 4, 1960 as an industry for mechanical components to civil construction, specializing in Prestressed Concrete.
Due to its high performance in the design and execution of devices to prestressed concrete, the company acquired expertise in machining and high pressure hydraulics. This knowledge led to the foundation, in 1985, of Rudloff's mechanical division, when it started to provide services in the area of machining in automatic lathes.
The company develops a broad partnership with its customers and suppliers, based on its Quality Policies and punctual delivery through the just-in-time and Kam ban processes.
Due to the Integrated Management System certified by ISO 9001, allied to the CAD/CAM technology, we are able to offer machined components with assured quality and programmed deadlines.
The wide range of machinery, that includes Automatic Centers, CNC and Machining Centers, allows us to serve both small and large series, all geared to middle and high accuracy.
In addition, a shop-floor structure, which goes from labor training to the development of new productive systems, is focused in continuous improvement and attending to costumers according to their necessity.
Our provision of services follows a methodology where Rudloff Industrial Ltda. is an extension of the client's productive process, taking an active role in the improvement of quality and efficiency.
Invalid Displayed Gallery