.
José Ernesto Rudloff Manns was born in Chile, graduated in civil and mechanical engineering in 1943 naUniversidad de Chile in Santiago, where he started his professional experience and got to direct large works. Motivated by the great Brazilian potential, settled in the city of São Paulo in 1952. dedicated Engineer, Rudloff was impressed with the prestressed concrete technique and decided to devote himself to it. His system was the first genuinely Brazilian process of structural prestressing. At that time, few works were performed with this technique in Brazil, previously with foreign technology.
While various prestressing systems were invented, including some in Brazil, the vast majority did not pass the initial stage of realization of the idea. Rudloff invested in a series of experiments to be able to develop ideal equipment to process, with much research and many sacrifices. The patent was then granted, and from then on, everything was a matter of improvement, up to a competitive docking with existing foreign.
The first prestressed beam elaborated by Rudloff in 1954 was conducted as an experiment inside the company SITUBOS, a subsidiary of BRASILIT. It was approved by the Engineer Péricles Fusco, from IPT (Instituto de Pesquisas Tecnologicas – São Paulo).
Once the validity of the system was proved, Rudloff counted on the collaboration of the engineers Agenor Guerra Filho and Francisco Fernandes, from CONSTRUTORA MAUÁ. Through this partnership, Rudloff conquered his first office facilities, founding the company on the 4th of March 1960, as Rudloff Industrial Ltda, an industry of mechanical components for civil construction, specializing in prestressed concrete.
The prestressed beams proceeded to an uninterrupted sequence of constructions, each one being a new challenge. Everything that today seems so simple was created with hard work and successive corrections of errors in prototypes. The system was not restricted to MAUÁ CONSTRUTORA and its application to third parties was outnumbered.
At that time, the Swiss company VSL had been working in Brazil since 1968, through the licensed national company Engenharia Brasileira de Protensão (EBP). Its technology was highly evolved, but due to difficulties in its establishment in Brazil, VSL decided to leave the country. However, in order to continue its operations in the Brazilian territory, VSL offered Rudloff a partnership, having considered our company the best qualified to represent it. In October 1981, VSL joined Rudloff as a minority partner, thus renaming itself Rudloff-VSL Industrial Ltda. This partnership lasted until 1990, when Rudloff acquired VSL's part of the society, becoming independent once again as Rudloff Sistema de Protensão Ltda.
Due to the design and execution of its own equipment and devices for prestressed concrete, Rudloff acquired extensive know-how in machining and high pressure hydraulics over the years. In February 1985, the company decided to start its own mechanical division, providing services in the area of machining in automatic lathes. Currently, Rudloff is able to meet a variety of demands in machining, working with its own equipment, amongst which stand out machining centers, automatic lathes and CNC.
In 1986, Rudloff established a partnership with the British company CCL-System Ltda., to manufacture rebar coupler for splicing bars of steel used in concrete (Barsplice System). After studying the technology for implementing these rebar couplers, Rudloff designed three unique types of cold squeezing couplers for three types of rebar couplers, which have been successfully used since then.
After an immeasurable contribution to the national engineering, Rudloff died in 2009. However, the company continues to develop itself technically, through its professional staff and technical consultants.
The hard work of its founder reflects daily at Rudloff. His recommendations for the proper conduction of the prestressing system are alive even today. They are fundamental in keeping the company in a prominent position on the national ranking of prestressing.
In Rudloff's curriculum there are over 2,000 prestressing jobs that include hydroelectric power plants, airport runways, commercial and residential buildings, tanks and reservoirs. The company is currently supplying products and services in the area of ​​prestressing structures, machining, splices for steel bars and pot bearings.
In each area, Rudloff is committed in offering to its customers the best technical and economical solution possible, aiming to contribute to national and international engineering with products and services of high quality and efficiency.
---
50 Years of Rudloff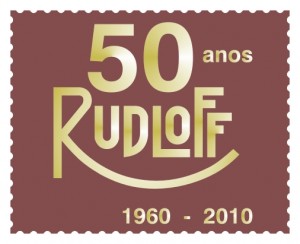 Rudloff Industrial Ltda was founded in 1960 as a mechanical component industry for civil construction. Its mechanical division was established in 1985, to supply machining services for national and international markets.
With a diversity of equipments that include CNC lathes and machining centers, the company is able to meet large and small demands with quality and punctuality, including additional machining operations such as welding and painting parts. Rudloff has extensive experience in machining of various materials, amongst which stand out carbon steel, stainless steel, alloy steel, aluminum, bronze, copper and brass.
Rudloff has an Integrated Management System certified by ISO 9001 and works within the highest quality standards and technical demands, following all requirements of the globalized market. Our clients include companies in a variety of industrial segments, such as auto parts, electro-electronic, oil industry and large buildings, for which we supply components, equipment and services for prestressed concrete.
The company's focus in achieving excellence in technology, service and products, respecting the environment, man and society around it, allows us to act with sustainability and social responsibility. In order to develop these aspects, Rudloff is a member of the Instituto Ethos, affirming its commitment to adopt social and responsible practices, thus contributing to building a more promising scene for everyone.
In addition to machining, Rudloff is a supplier of products and services in the areas of: pot bearings, prestressing of structures, moving of heavy loads and mechanical splices for steel bars for civil construction.
The company gladly shares with its employees, suppliers and customers, 50 years of growth with quality and sustainability, completed in 2010.