The prestressing is a technology that provides the most concrete tensile strength and is quite interesting to structures where bending stresses are high. It's a smart technology, effective and durable, able to offer structural solutions with excellent cost-benefit ratios. The prestressed process results in structures with little or no need for maintenance over its lifetime, and allows other features such as:
Large  spans
Control and reduction  of deformation and cracking
Possibility of use in harsh  environments
Daring architectural  projects
Application to prefabricated pieces
Recovery and strengthening of structures
Plates more slender than the equivalent in concrete: it can reduce both the total height of a building, such as your weight and, consequently, the loading of foundations.
The advantages of the technology are diverse and justify its use worldwide to perform conventional and daring architectural projects in works of small, medium and large scale.
---
Catalog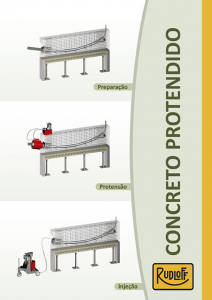 Click on the image to open the PDF file
---
Technical Publications
Click on the images to open the PDF file
---